How to Set up FLO Diffuser Home
Simple steps to set up and get started on your aroma diffuser. Also known as Nebulising Diffusers, they do not use any water nor heat to operate.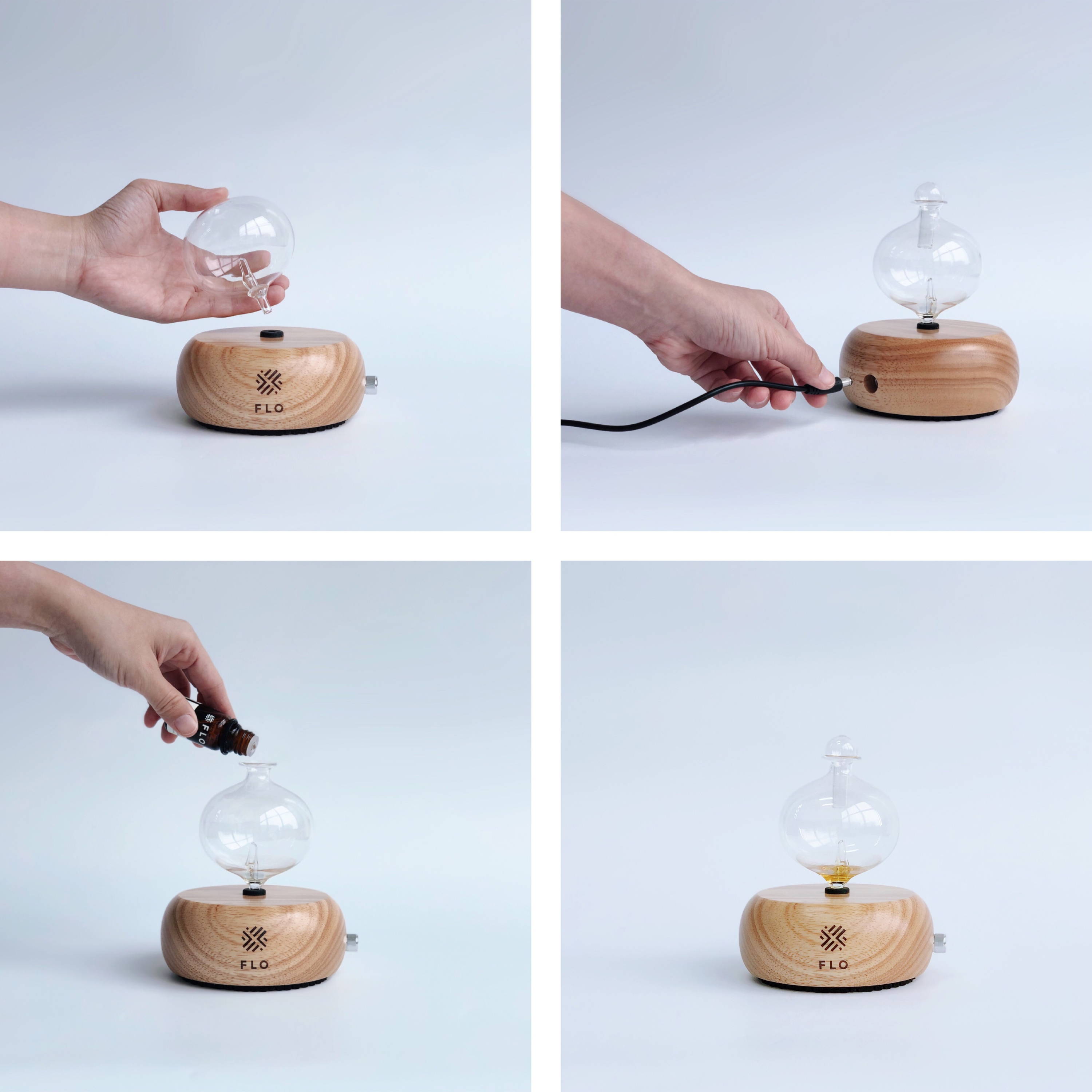 Step 1 Fix up glass chamber into diffuser base
Step 2 Connect to power source
Step 3 Drip in around 20 drops of essential oil into the glass chamber
Step 4 Turn up the dial to power on and adjust diffusion intensity as you like
Using Nebulising Diffusers

Only 100% pure essential oil can be used with the Nebulising Diffuser. Concentrates, burner oils, fragrance oils, massage oils or oils mixed with carrier oil or alcohol cannot be used

20 drops of oil is equivalent to 1 ml. Depending on the intended intensity of use, 20 drops generally suffices for a standard use of 30-60 minutes

Meant for 30 - 60 Minutes
As the essential oils are diffused without dilution, a half to one hour duration is an adequate period for each use. Multiple sessions can be done throughout the day.
How to Clean FLO Diffuser Home
Cleaning of the nebulising diffuser is easy peasy.
Step 1 Remove glass chamber from diffuser base
Step 2 Pour in some cleaning solvent
Step 3 Swirl & shake to dissolve oil remnants in glass chamber and on glass tip. Dispose liquid. Repeat step until clean.
Step 4 Fix glass chamber back into diffuser base & let dry
Cleaning Nebulising Diffusers

Appropriate amount of solvent
Pour into glass chamber an appropriate amount of cleaning solvent enough to cover oil remnants and the sides of the glass as you swirl and shake to clean.

Wash when you'd like to pause usage for a few days, or particular about mixing of aroma. While washing is not necessary everyday if you use the diffuser regularly, we recommend washing it from time to time to prevent clogging caused by oxidation of oil remnants when diffuser is left unused for a period of time.

Daily Cleaning for Thick Oils
For thicker and heavier pure essential oils such as Sandalwood, Patchouli, Cedarwood and the likes, washing after each use is recommended.